Experience Honeysuckle Moon, the official natural skin apothecary of Atlanta,Georgia. Located in Historic West End is the Roots, Trees and Flowers: Herban Wellness Lounge. It is an earthy, super natural space of well-being for individuals who seek the herbalist approach to skin care, therapeutic facials, foot reflexology and Indigenous body art. Our retail location, Liberated Honey Natural Body Shop is located at 1276 Ralph David Abernathy Blvd., Atlanta, GA 30310.
Friday, April 8, 2011
Peace and LOV to the Beautifull People in my realm!
I am humbled by the fact that honeysuckle Moon Natural Skin Care is currently celebrating 5 years of servicing you with the finest handcrafted herbotanical recipes for skin and hair! A dream that began with 2 simple recipes has bloomed into a portfolio of well over 150 customized recipes and now, natural spa body treatments...:}
Zenijah and I chose to commemorate this joyfull time by packing up and journeying on a roadtrip across the South to Louisiana, with the sacred shea butter pot and our latest batched recipes in tow. We've had plenty of beignets and crawfish (12lbs), spent time on the bayou with my most creative aunt who shared her stone majesty and the healing properties of hematite, and drank black tea with licorice root, magnesium and bee pollen with my father... It is he who taught me to honor the healing properties of plants and minerals... It has been a blessed week... Selah
This week shall conclude with a product stop and shop in North Louisiana tonight before heading back to Atlantis, Georgia for an awesome reggae show and product exhibition with Pato Banton and Ras Kofi! Plenty of flowers are beginning to spring forth, so keep an eye open for our official spa location, more conference and arts venue dates and home spa opportunities. Zenijah even has some work she is accomplishing with the young flowers. Your continued support and prayers are immeasurable...
www.cartfly.com/honeysucklemoonpromo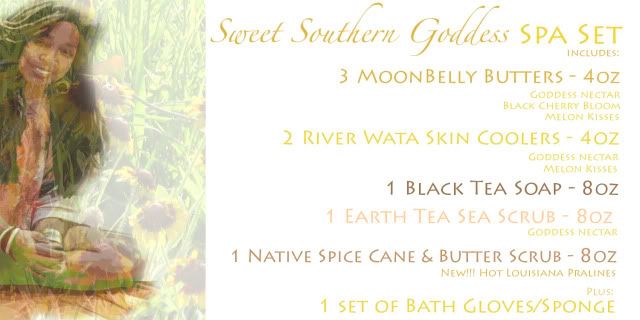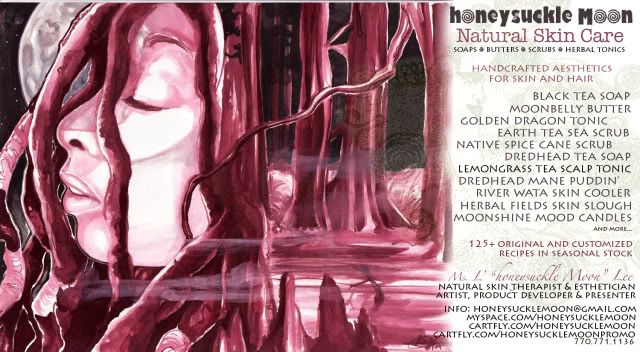 Posted by

honeysuckle Moon
at 12:56 PM
No comments: